Dunfermline: Scotland's ancient capital
The historic city of Dunfermline was the capital of Scotland back in the 11th century. Walk through 900 years of Scottish history in one day.
For general information about Dunfermline, visit the official site of Scotland's national tourism board .
Dunfermline's oldest house - Abbot House is Set in its own gorgeous gardens a stone's throw from a Royal Palace, Monastery and Abbey where Scotland's great hero king, Robert Bruce, is buried. Abbot House is the perfect place to explore Dunfermline's remarkable story at the heart of Scottish history. Visit the Abbot House website for more information.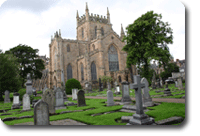 For more information about Dunfermline palace and abbey, visit the Undiscovered Scotland website.
Dunfermline is the birthplace of Andrew Carnegie - a millionaire philanthropist. Carnegie's gifts to Dunfermline include the Carnegie Hall theatre, and Pittencrieff Park. The Carnegie Birthplace Museum has more information about Andrew Carnegie.
"We spent a lovely time here. It is a really cute apartment in a beautiful area. It was really nice to stay here in Dunfermline. See you next time" Thanks :-)" Jana and Laura, Spain.
"Very nice apartment, good location. Many thanks!" Ligita, Latvia.
"Neat + tidy. Good price. Quiet location." Elaine, Australia.
"2nd time here. Best apartment around we reckon. At the price can't fault it! See you next time!" James and Jill, Australia.
"Great place in an ideal location. Many thanks." Rowan, New Zealand.
"Very very nice apartment. Clean and bright, very well equiped. A beautiful decoration (even in the bathroom). Colourful." Mercedes and Luisa, Spain.
"A nice little apartment with all the necessary facilities. Good location - close to everything we wanted to visit. Enjoyed our stay!" Souness Family, Scotland.
"Brilliant bijou, can't fault it - 100% better than any hotel around Rosyth!" Bob, England.
"We had a nice week here. Good place to stay at." Peter and Coosje, Holland.